The 2021 Subaru Love Promise Community Commitment Award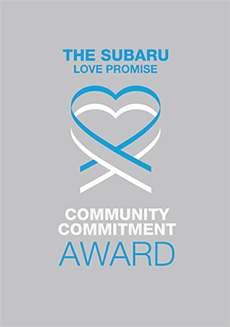 We've been nationally recognized for our dedication to our community and the Subaru Love Promise.
We're honored to receive the 2021 Subaru Love Promise Community Commitment Award. This award nationally recognizes Subaru retailers who are making the world a better place while demonstrating an outstanding commitment to supporting passions and causes in local communities. These efforts are focused in important areas such as the environment, community, health, education, and pets.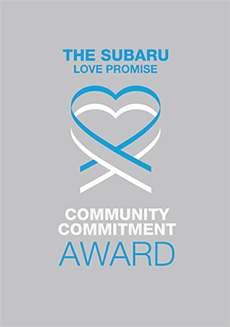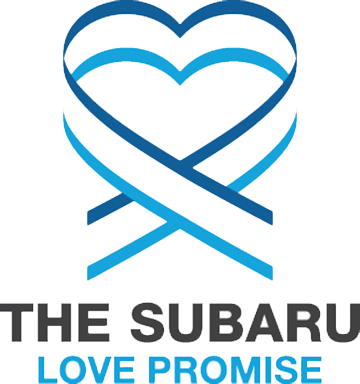 What is the Subaru Love Promise?
Subaru and our retailers believe in making the world a better place and the Subaru Love Promise is our vision of respecting all people. This is our commitment to show love and respect to our customers and to work to make a positive impact in the world.
How is River City Subaru dedicated locally to the Love Promise?
Our Love Promise can be seen in various partnerships with local charities and non-profits. We are happy to have this opportunity and will work with these charities as we have in the past
Little Victories Animal Rescue
Love Promise Stories from River City Subaru
Subaru and River City Subaru believe in making a positive impact on the communities in which we live and work. We uphold that belief through our Love Promise Community Commitment. Every month, we select inspiring stories from customers and partners from around our area who strive to support our collective commitment and feature them here
Blankets for those in need. - Hutton L
This time of year can be extremely tough for the homeless due to the cold. Chris Short, a sales consultant at River City Subaru, delivered boxes and boxes of blankets to the staff at our local City Mission located in Huntington for people in need, so they can stay warm during the cold winter months!
---
Bringing Easter Joy for Kids! - Nick T
Due to Covid-19 many kids couldn't make it out to see the Easter Bunny. Our Sales Manager Chad Rhodes and his wife Jessica Donahue Rhodes, gave back to the community and spread some Easter joy from their Subaru to brighten the day of local kids, traffic and even a drive-thru!
---
Continued Support for The American Legion - Eric C
The American Legion is the nation's largest wartime veterans service organization, committed to mentoring youth and sponsorship of wholesome programs in our communities, advocating patriotism and honor, promoting strong national security, and continued devotion to our fellow service members and veterans. River City Subaru has been great supporter of The American Legion over the years.They have provided vehicle transportation for our members and veterans during events. They recently provided a cash donation to support our newsletter for members. We thank you for your continued support!
---
River City Subaru's help was a slam dunk! - Tony P
On behalf of The Flame Elite Travel Team, We would like to thank River City Subaru for a very generous donation to our basketball team. Your contribution will help the boys to participate in highly distinguished tournaments and will provide for AAU travel expenses. Without the support of people like you, we would not be able to reach our goals. Thank you once again for your generous support to our team.
---
Filling up a Forester with Love! - Jaye T
This year River City Subaru kicked off their annual Share the Love Campaign by partnering with Ronald McDonald House Charities of Huntington. Tuesday, November 13th, They had a Subaru Forester on site at the Ronald McDonald House located at 1500 17th Street, Huntington, WV 25701. They invited the community to fill it with supplies for RMH to use throughout the season. Supplies included (but were not limited to): toilet paper, garbage bags, postage stamps, office supplies, nonperishable food items, toiletries, dishwasher pods, etc. Basically, anything you need at home, times 20 families, and River City Subaru came through on their promise! Winter months bring an influx of flu, RSV, etc. and RMH often operates on a waiting list. We need help from our community to keep the facility stocked with supplies and groceries so that families don't have to worry about those things, and can focus entirely on getting their child well. Thank you River City Subaru for your time and service to the community!
---
Balloons for Team Owenn! - Chad R
Owenn is a 4-year-old little boy who was diagnosed with leukemia. He has gotten a lot of stuff thrown at him in his short life but he is a fighter. On September 27th we had the balloon release at Salt Rock Elementary School. It was a very rainy day but seeing those gold balloons go in the sky makes your heart happy." I called River City Subaru on a chance Wednesday afternoon at 3 pm. I told them who Owenn was because they are partnered up with the Leukemia Lymphoma Society who done a thing back in summer at the hospital together and Owenn was invited. She called me back and said they would love to help! I couldn't help but cry when she told me that and said is that a good cry or bad cry? I said it's a very good cry! She said, Honey, I'll have to call you back because you're making me cry! So about 20 minutes later she called me back and we got all the details worked out." We were very blessed that River City Subaru not only donated the helium but brought out the tank and helped blow up the balloons. We used all of one tank so he had to go get another one from River City Ford. While we used the rest of the second tank, he felt bad because we still had balloons left to blow up. He offered to go to Wal-Mart to get more tanks so all the balloons could be blown up. I told him it was ok because we had enough for the students to have one and that's what we wanted the most The guy was at the school at 9 am Thursday morning, he tied the first 100 balloons by himself and his fingers were bleeding by the time he was done. The people at River City have gone above and beyond for us and we are so very thankful and blessed. - Jennifer B., Owenn's Mom #TeamOwenn
---
River City's Gifts Delight Young Cancer Patients - Breanna S
After last year's heartwarming visit, River City Subaru was enthusiastic about returning to Edwards Comprehensive Cancer Center (ECCC) for another year of their "Subaru Loves to Care" partnership. The goal of Loves to Care is to help people live healthier lives. Working with The Leukemia & Lymphoma Society (LLS), River City aims to meet that goal by making cancer treatment more comfortable for patients at ECCC. River City demonstrated their commitment to these patients by donating cozy new throw blankets, arts and crafts kits, and piles of care cards which feature messages of hope and inspiration written by River City customers and employees to patients in treatment. Chad Rhodes, Hutton Light, and Tammy Light from River City delivered the gifts from the dealership to the hospital, then stayed to help the ECCC staff hand out the donations to kids who were waiting to receive treatment that day. They reconnected with Owenn, the 7-year-old LLS Honored Hero who helped with last year's delivery. Some of the other kids were shy at first, but once Chad, Hutton, and Tammy started opening the arts and crafts kits, even the more tentative little ones approached. Soon enough, everyone was busy opening boxes of brand new markers, crayons, and glitter paint. The big hit was the modeling clay, and soon, miniature duck, porcupine, and robot figurines were popping up all over the room. The ECCC staff thanked the River City team for spending time with the kids, and for bringing smiles to their faces. "We had a great time with these brave and wonderful children," said Tammy. It was an incredibly generous gesture from River City Subaru to provide these soft blankets and activity kits to young patients going through very rough treatments. LLS appreciates the help of everyone at River City Subaru, Subaru of America, ECCC, and Cabell Huntington Hospital who made this special day possible!
---
Helping Sick Children and their Families - Jaye T
Ronald McDonald House in Huntington, WV provides a "home away from home" for very sick children and their families, during a child's medical treatment. Jaye Toler, development director, said families arrive, tired and worried. "They're looking for a place of refuge," Toler said. "They often haven't slept or eaten well for days – or longer. They are panicked over receiving frightening news. They come to us, like shells of themselves, and we try to offer comfort and normalcy; anything to help them continue to function during this hardship." Normalcy comes in the form of a hotel-style bedroom, kitchens stocked with meals and supplies, and staff and volunteers, ready to lend a shoulder. Guests use the Ronald McDonald House as a place to recharge between doctor's appointments and treatments. Ikie and Tammy Light, of River City Ford and River City Subaru, have taken that one step further. "I was at Ronald McDonald House with my wife during the construction of their new playground last winter and Jaye offered to take us on a tour of the facility," Light said. "One thing I noticed is that they had a computer room that looked very dated, there were cubicles and it appeared very bland. Jaye told us an update was on their wish list, with the vision to have a nice media room where both kids and their parents would like to come and spend time." Within a few weeks, Ikie called us and said they wanted to make the new media room a reality. The Lights, RMH staff, architects, and designers got to work planning a gorgeous, state-of-the-art media room for families to use during their stay at Ronald McDonald House. The media room, with a bonus sitting area, consists of televisions, tall shelves lined with books, new computers with workstations, an Xbox and Playstation, vivid art and décor, and more. Toler said guests use the space to play video games, read, work or do schoolwork. "Sometimes families are here for much longer than they originally prepared," she said. "In those instances, they often need to telecommute for their jobs. One RMH dad regularly uses the space for conference calls. Others work on schoolwork from the computers or research a diagnosis or treatment. RMH executive director, Margaret Wilson, said the renovation amazed her. "Ikie and his team have taken this room and recreated it entirely," Wilson said. "It's gone from drab to vibrant – with bright colors and brand-new technology. Our families are thrilled with this space." The new media room came after Tammy Light spent months working on a major project at RMH – Maggie's Playground. Tammy served as Materials Coordinator for the months-long project and would drive all over town soliciting tools or equipment we needed to build a large, wheelchair-accessible playground, dreamt by a 6-year-old cancer warrior, Maggie. The Light's commitment to sick children in our area is overwhelming. They serve with their time – donating their labor to our mission. They are major donors; knowing that we must raise $650,000/year for our annual operating budget (no guest is ever asked to pay for their stay at RMH – we want them to focus on getting their child well!). They are ambassadors in our community and encourage others to help. The world needs more Lights and more River City Subarus!
---
A Little Victory - Stephanie H
A big "tail wag" to River City Subaru! They have once again joined Little Victories Animal Rescue in the fight to save homeless, injured, abused and abanded animals. Through a social media ad campaign, River City Subaru is donating a portion of each car sold to Little Victories during the month of June. The money that will be donated will go to the spay and neuter of our future rescues. As the Executive Director, I want to thank Ikie for his unwavering support and the staff for their enthusiasm for this project. Because of people like you, we have many "Happy Tails," thank you!
---
River City Donations Help Kids Fighting Cancer - Breanna S
River City Subaru swooped into Edwards Comprehensive Cancer Center (ECCC) on July 25 like superheroes. Partnering with The Leukemia & Lymphoma Society (LLS), the dealership provided a surprise for those patients bravely battling cancer. Nick Thomas and Hutton Light from River City not only brought art kits and 80 blankets for ECCC's patients, but also went above and beyond the call of duty, bringing superhero figurines for the two cancer-fighting kids they knew would be helping them deliver these gifts at the hospital. Owenn, a 6-year-old LLS Honored Hero who is in remission, was one of the helpers there to thank Subaru. He and his brother, Bryce, couldn't wait to unpack the art kits and joined Cameron, another Cancer Center patient, in an impromptu painting party. Everyone's hearts were bursting at seeing these little boys so happy despite all they've been through. "They were so kind to give Owenn and his brothers blankets and art supplies, and also for bringing Owenn and Cameron Batman and Superman toys," Owenn's mom, Jen, gushed. "Thank you for thinking about us." On behalf of LLS, Owenn and Cameron's families, and ECCC, we are so grateful to River City Subaru, Subaru of America and their customers for making this inspirational (and fun!) day possible not only for these two little boys, but also for the other 78 patients who will benefit from the generosity of this gift. Thank you, River City Subaru, for using your superpowers for good, to benefit your community.
---
Subaru and NWF Love the Earth! - Josh W
Our Outdoor Learning Center has been a work of passion between my students and myself for the last 3 years. We started with a Lowes Toolbox for Education grant and secured several other grants the past few years to make our dream a reality. It's now a place where students can learn and relax and have a change of pace from the standard classroom model. We're very proud of what we've achieved.
---
Flood Relief Efforts in West Virginia - Margaret O
Beckley, WV April 6th, 2017 Subaru Share the Love Event Raises over $51,000 for United Way's. During this 9th year of Subaru's Share the Love Event, all eight West Virginia Subaru retailers went above and beyond by selecting United Way as their hometown charity to support flood relief efforts in central and southern West Virginia. As the Share the Love hometown charity, customers at River City Subaru had the option to select the United Way to receive the $250 donation when they purchased or leased a new Subaru in November and December. These donations were then matched by River City Subaru. United Way of Central WV, United Way of Greenbrier Valley and United Way of Southern WV were very thankful for these Subaru retailers and their joint effort to raise funds for people most affected by the June 2016 flood. The check presentation was made at United Way of Southern West Virginia by Subaru retailers from Cole Subaru, Jenkins Subaru and Hometown Subaru.
---
Subaru Loves Learning Book Drive August 1 - 31 - Danielle S
Join us in our Subaru Loves Learning initiative during the month of August! We are partnering with the American Association for the Advancement of Science (AAAS) in donating science books to the Cabell County School District. All of the books that will be donated have been recognized by AAAS as some of the best science books in their field. Contact us to learn more information.
---
Subaru Loves the Earth - E-Waste Event - Danielle S
We would like to thank our customers for participating in our E Waste Recycling event during the month of April. With your help, we were able to prevent 2,090 lbs of carbon emissions from polluting the atmosphere. This is equivalent to saving 81 trees, 356 gallons of gasoline, 3,030 plastic bottles, and 13,936 aluminum cans. Thank you for helping strengthen the Subaru Love Promise!
---
April 1-30, 2015 E-Waste Recycling Event - Molly M
Throughout the month of April, we are hosting an E-Waste Recycling Event in our store to collect unwanted electronics. We've arranged to work with a company who will responsibly collect, re-purpose, and recycle your electronic waste. Help us protect our environment. Just show up with your E-Waste and we'll do the rest! The first 50 customers who contribute will receive a complimentary environmental badge of ownership. We will accept: LCD Monitors, Cell Phones, Laptops, Tablets, CRTs up to 40 inches, Video Games/Consoles, Fax Machines, DVD/VCR Players, Printers, Computer Peripherals, Switches/Routers, Cords and Wires.
---