The 2022 Subaru Love Promise Customer and Community Commitment Award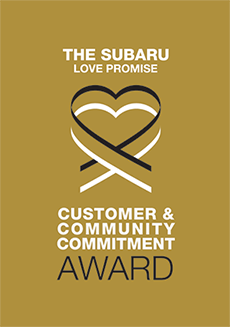 We've been nationally recognized for our dedication to our customers, our community, and the Subaru Love Promise.
We're honored to receive the 2022 Subaru Love Promise Customer and Community Commitment Award. This award nationally recognizes elite Subaru retailers who provide an exceptional customer experience at every interaction with Subaru. These retailers have also demonstrated an outstanding commitment to supporting passions and causes in their local communities in important areas such as the environment, community, health, education, and pets.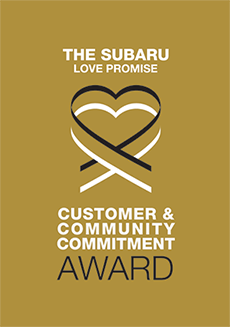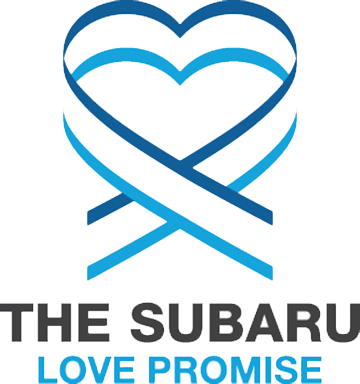 What is the Subaru Love Promise?
Subaru and our retailers believe in making the world a better place and the Subaru Love Promise is our vision of respecting all people. This is our commitment to show love and respect to our customers and to work to make a positive impact in the world.
How is River City Subaru dedicated locally to the Love Promise?
Our Love Promise can be seen in various partnerships with local charities and non-profits. We are happy to have this opportunity and will work with these charities as we have in the past
Little Victories Animal Rescue
Love Promise Stories from River City Subaru
Subaru and River City Subaru believe in making a positive impact on the communities in which we live and work. We uphold that belief through our Love Promise Community Commitment. Every month, we select inspiring stories from customers and partners from around our area who strive to support our collective commitment and feature them here
Cause For Paws - Stephanie H
October 1st Little Victories partnered with River City Subaru to kick off the Cause For Paws campaign. We are educating the public about the importance of spay and neuter. Since January 1st LV has been asked to take in 507 puppies and dogs and 4,231 kittens and cats, "Paws" a minute to think of all those unwanted pets. Subaru and ASPCA gave Little Victories grant money for vouchers to give out to the community for free spay and neuters. We gave out 85! Just think of all the unwanted lives we will be able to spare. Thank you River City for allowing us to host this event at your dealership and for all you do for our community!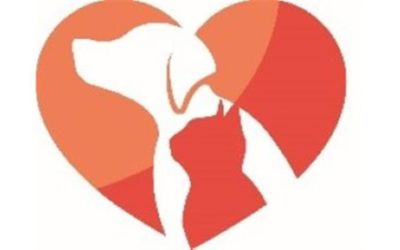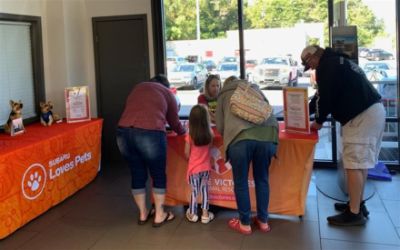 ---
Books for Children - Angie K
It has been clear to the staff at Nichols Elementary for many years now that River City Subaru loves learning. They have supported us in a variety of ways both for fundraising and teaching. Ikie, Tammy, Hutton, and Reagan have helped with the school carnival, sewing pillows for heart patients, donating school supplies and much more. However, a few years ago, they took their donations to a new level: classroom sets of books for our teachers that support what we are doing in the classroom. Those literacy goodies have inspired several projects for individual students and/or the classroom. A book on breaking the waste cycle motivated one class to do a recycling project. Several students have been delighted to see a title on keeping chickens. One young lady used that book as a basis for a Social Studies Fair project on her egg business. Books on gardening assist us in our Viking Garden endeavors. However, the best book of all, in my opinion, is one on Temple Grandin, a woman who embraced her autism to earn a PHD in animal science. Her biography teaches our students a message from Plato, "Be kind, for everyone you meet is fighting a hard battle." Thank you River City Subaru for sending this message of hope, change, and acceptance to our students who will one day change the world.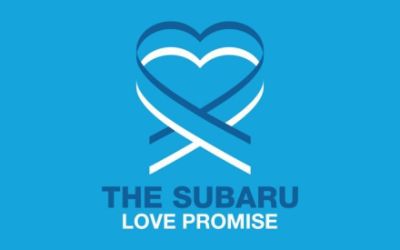 ---
Ongoing Support - Olivia Z
There's support, and then there's River City support. Ronald McDonald House of Huntington is so grateful for the commitment this team shows the kiddos we serve. Sometimes it's money, sometimes it's recreation, sometimes it's promoting our mission to serve sick children and their families --year after year, they help hold us up. Their support is unconditional; whatever we most need, they're helping us get there. While occasionally that looks like our really cool media/gaming room, or Maggie's Playground (both projects with River City's sponsorship) more often it looks like operating money to pay for necessities. Our expenses are similar to any home, but with 20 families under one roof. When Holdyn was going through chemo, he wanted to take hot baths all day long. Jaxon requested pizza. Madilynn gets cheered up on infusion day with a new hair bow and fishing pole. It's not glamorous or flashy. It's quiet, humble support of our day-to-day expenses that make this a "home away from home" for families facing their worst nightmare. And for that, we feel such a sincere appreciation for River City Subaru; Ikie, Tammy, Hutton & Reagan Light; their entire team and their customers. Your ongoing support makes the RMH mission possible.
---
Helping to Save the Day - Stephanie H
Amid a year of COVID, Little Victories was hit hard with a debilitating ice storm, flood and CATastrophe. In February of 2021, an ice storm left us without power for 13 days. Knowing we had to keep the animals in our care warm, we reached out on social media asking for donations to buy and run generators. Not long after the request, I got a text from Ikie saying he wanted to help us and to stop by and pick up a check the next day. It wasn't just a donation. He covered the cost of a whole generator! As the ice melted, floodwaters took its place, filling our facilities and once again endangering our animals. Just as we seemed to clean up after all Mother Nature had to throw at us, in April, 44 kittens were abandoned on our doorstep, most of them in dire health. The vetting cost to heal their illnesses, care for their injuries and vaccines was unthinkable. The Share the Love campaign check presentation couldn't have come at a better time! We were able to cover all the vetting thanks to the Share the Love campaign and community support. Ikie and his team have such a great sense of community and compassion. If not for the support of community leaders like Ikie, nonprofits like Little Victories could not do their essential work. I am forever grateful to River City Subaru, Ikie, Tiffany, and the rest of the team. Thank you!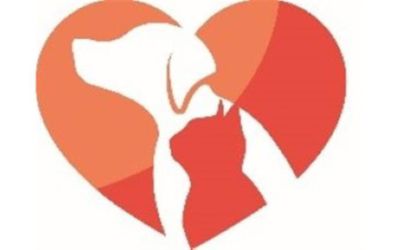 ---
Blankets for those in need. - Hutton L
This time of year can be extremely tough for the homeless due to the cold. Chris Short, a sales consultant at River City Subaru, delivered boxes and boxes of blankets to the staff at our local City Mission located in Huntington for people in need, so they can stay warm during the cold winter months!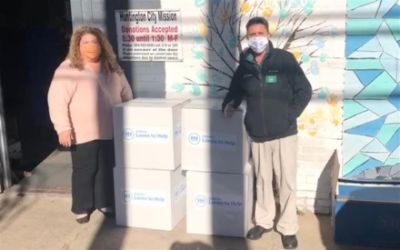 ---
Bringing Easter Joy for Kids! - Nick T
Due to Covid-19 many kids couldn't make it out to see the Easter Bunny. Our Sales Manager Chad Rhodes and his wife Jessica Donahue Rhodes, gave back to the community and spread some Easter joy from their Subaru to brighten the day of local kids, traffic and even a drive-thru!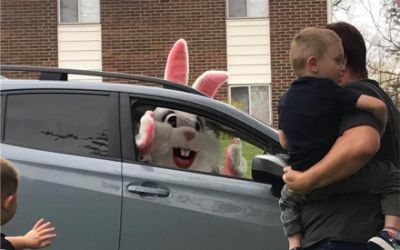 ---
Continued Support for The American Legion - Eric C
The American Legion is the nation's largest wartime veterans service organization, committed to mentoring youth and sponsorship of wholesome programs in our communities, advocating patriotism and honor, promoting strong national security, and continued devotion to our fellow service members and veterans. River City Subaru has been great supporter of The American Legion over the years.They have provided vehicle transportation for our members and veterans during events. They recently provided a cash donation to support our newsletter for members. We thank you for your continued support!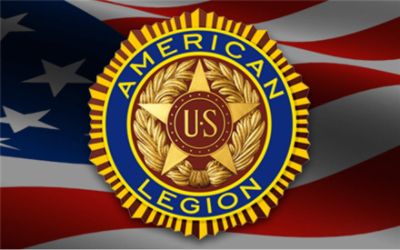 ---
River City Subaru's help was a slam dunk! - Tony P
On behalf of The Flame Elite Travel Team, We would like to thank River City Subaru for a very generous donation to our basketball team. Your contribution will help the boys to participate in highly distinguished tournaments and will provide for AAU travel expenses. Without the support of people like you, we would not be able to reach our goals. Thank you once again for your generous support to our team.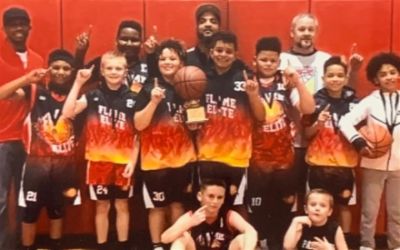 ---
Filling up a Forester with Love! - Jaye T
This year River City Subaru kicked off their annual Share the Love Campaign by partnering with Ronald McDonald House Charities of Huntington. Tuesday, November 13th, They had a Subaru Forester on site at the Ronald McDonald House located at 1500 17th Street, Huntington, WV 25701. They invited the community to fill it with supplies for RMH to use throughout the season. Supplies included (but were not limited to): toilet paper, garbage bags, postage stamps, office supplies, nonperishable food items, toiletries, dishwasher pods, etc. Basically, anything you need at home, times 20 families, and River City Subaru came through on their promise! Winter months bring an influx of flu, RSV, etc. and RMH often operates on a waiting list. We need help from our community to keep the facility stocked with supplies and groceries so that families don't have to worry about those things, and can focus entirely on getting their child well. Thank you River City Subaru for your time and service to the community!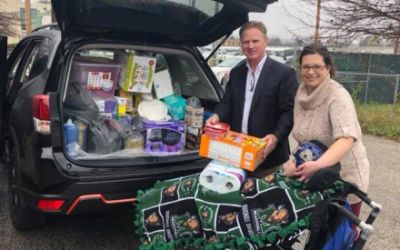 ---
Balloons for Team Owenn! - Chad R
Owenn is a 4-year-old little boy who was diagnosed with leukemia. He has gotten a lot of stuff thrown at him in his short life but he is a fighter. On September 27th we had the balloon release at Salt Rock Elementary School. It was a very rainy day but seeing those gold balloons go in the sky makes your heart happy." I called River City Subaru on a chance Wednesday afternoon at 3 pm. I told them who Owenn was because they are partnered up with the Leukemia Lymphoma Society who done a thing back in summer at the hospital together and Owenn was invited. She called me back and said they would love to help! I couldn't help but cry when she told me that and said is that a good cry or bad cry? I said it's a very good cry! She said, Honey, I'll have to call you back because you're making me cry! So about 20 minutes later she called me back and we got all the details worked out." We were very blessed that River City Subaru not only donated the helium but brought out the tank and helped blow up the balloons. We used all of one tank so he had to go get another one from River City Ford. While we used the rest of the second tank, he felt bad because we still had balloons left to blow up. He offered to go to Wal-Mart to get more tanks so all the balloons could be blown up. I told him it was ok because we had enough for the students to have one and that's what we wanted the most The guy was at the school at 9 am Thursday morning, he tied the first 100 balloons by himself and his fingers were bleeding by the time he was done. The people at River City have gone above and beyond for us and we are so very thankful and blessed. - Jennifer B., Owenn's Mom #TeamOwenn
---